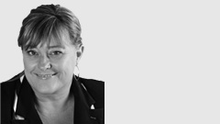 Sales Manager for The Brett Crompton Team
Introducing your property consultant
Angela Galvin of Ray White is "Here to Help" – three words that can mean so much when it comes to Selling your home.
Here to Help – you decide the best way to bring your property to the Market
Backed by the best available Real Estate tools and the expertise of the Ray White Brand behind her, whether you decide to take your home to the marketplace with an advertised price or go to Auction you can rest assured that the process will be handled efficiently and professionally.
Here to Help – spend your advertising dollar wisely
With extensive experience in Advertising, Marketing, Public Relations and Retail Management, Angela can provide you with an innovative and strategic approach to introducing your property to prospective purchasers.
Here to Help – bring your home to the attention of more prospective buyers
Success in Real Estate is all about consistency and attention to detail.  In today's world that means database management and loads of good old fashioned talking to people – and more importantly LISTENING to people.
Here to Help – guide you through the whole process from listing to settlement.
Making the decision to sell your home can often be fraught with many unknowns, let Angela help you through the process with open and reliable communication.
Agent Reviews
Mim and Luke Stocks- Ferny Hills

Our Plan was to meet at least three or four real estate agents. But after one visit with Angela, we signed instantly without the need to meet anyone else. Any doubts or reservations we had with the process of selling our house were quickly put to ease after one meeting. Angela was upfront, honest, trustworthy and professional. After the first open house, we found that she went above and beyond to find out wether any prospective buyers would be willing to make an offer. Nothing was missed. Angela worked hard to make sure our property was always marketed correctly and presented in the best way for our demographic. If we ever sold again, we would have absolutely no hesitation in using Angela to sell our property.